Biggest-ever criminal botnet links computers in more than 172 countries
Cybersecurity experts say that the world's biggest-ever botnet is still operating, despite the arrests of two cyber criminals, which required coordinating law enforcement across two continents.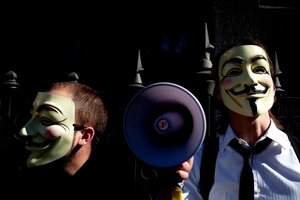 Arturo Rodriguez / AP / File
Computer security experts say they have detected what appears to be the world's largest-ever computer "botnet," a network of millions of computers controlled clandestinely by a criminal cyber gang with roots in Eastern Europe.
No one yet knows for sure just how many million "zombie" computers are under the thrall of this still-unnamed massive botnet, but it sprawls across 172 countries, according to Unveillance, the Wilmington, Del., botnet-tracking firm that announced the discovery Wednesday.
By contrast, the huge Mariposa botnet, one of the largest ever discovered, as recently as 2009 controlled up to 12 million zombie computers in about 100 countries. Mariposa has now been neutralized by law enforcement. But this newly discovered botnet – a kissing cousin of Mariposa, built with the same "Butterfly Bot" software kit and sharing similar stealthy characteristics – has spread much farther.
"We don't know yet how many computers are part of this new network, but we can infer that it is likely to be the largest ever, based on how many countries with infected computers are connected to it and its rate of growth," says Karim Hijazi, CEO of Unveillance, in an interview. "This is a completely fresh botnet: enhanced, more advanced, and difficult to detect. We now see it has been spreading since at least 2007."
How to build a bigger botnet
---