Hurricane Irene hurtles toward North Carolina, may skirt Florida (VIDEO)
Hurricane Irene is expected to make landfall along the North Carolina coast Saturday. Top emergency management officials urge residents all along the East Coast to make preparations now.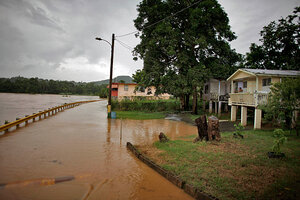 Ricardo Arduengo/AP
As hurricane Irene leaves the Caribbean island of Hispaniola and begins a projected path that puts landfall on the North Carolina coast Saturday, top emergency management officials are urging residents all along the US East Coast to make preparations now.
"We've got a lot of time for people to get ready, but we don't have forever," said Craig Fugate, who heads the Federal Emergency Management Agency, during a briefing Tuesday.
Unlike Earl, a major hurricane in late August 2010 that flirted with much of the US East Coast but didn't make landfall until it reached Nova Scotia, Irene is projected to make landfall near Morehead City, N.C., Saturday.
The current track forecast takes the storm inland up the North Carolina and Virginia coasts and onto the Delmarva Peninsula Sunday morning.
Federal forecasters monitoring Irene caution that the accuracy of their track forecasts can be off by as much as 250 miles five days out. Even so, "a little deviation in the track" can have a significant impact on the storm's effect on the coast, Mr. Fugate cautions.
---