Irene update: New York Mayor Bloomberg lifts evacuation order
With tropical storm Irene past New York, Mayor Michael Bloomberg lifted his evacuation order. But with public transit still shut down, there's likely to be a tough commute on Monday.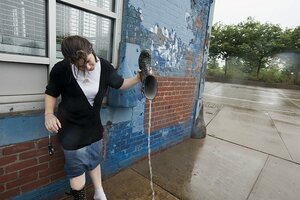 Newscom
With the worst of tropical storm Irene having passed New York, Mayor Michael Bloomberg is lifting the mandatory evacuation order for low-lying parts of the city, which had affected about 370,000 people.
The end to the evacuation was to occur at 3 p.m. Sunday, although New Yorkers already had started to return home and some had never left.
"The good news is the worst is over and we will soon move to restore-and-return mode," Bloomberg said at a press conference Sunday. "All in all, we are in pretty good shape because of the exhaustive steps we took to prepare for whatever came our way." The fact that Irene – downgraded from a hurricane to a tropical storm – packed less punch than it might have probably helped too.
But things won't be back to normal until power is returned for the thousands who lost electrical service and until the city's subway and bus system is fully operating – which is unlikely to be by Monday when most New Yorkers head back to work.
"I think it's fair to say you're going to have a tough commute in the morning," Bloomberg acknowledged. "But, you know, we have tough commutes all the time."
---