Mayor's last-ditch effort to save Detroit would privatize 88,000 streetlights
Detroit Mayor Dave Bing asked for deep cuts and concessions from unions and city officials to stave off a state takeover. Privatizing streetlights and buses is one part of his plan.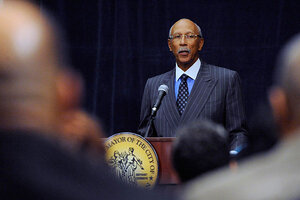 Daniel Mears/Detroit News/AP
Since assuming office as mayor of Detroit two years ago, Dave Bing has challenged the city council and union leadership, saying the city is broke and needs sacrifice on all levels of the private and public sectors to prevent insolvency.
Mayor Bing is now bringing the message to the people. He appeared on local television Wednesday to announce several ways the city can plug the $45 million cash shortfall anticipated next year. If left unresolved, the financial crisis could result in a state-ordered emergency takeover.
Among Bing's proposals:
Concessions by the city's 48 unions for 10 percent pay cuts and reductions in health-care and pension benefits, as well as overtime. Police and firefighters will also face similar pay cuts.
Concessions by city retirees to voluntarily reduce medical and pension benefits.
Layoffs affecting 1,000 city employees.
Recouping the $220 million the state owes Detroit after failing to keep a 1998 promise that guaranteed Detroit revenue sharing in exchange for lowering the income tax rate.
Raising corporate taxes by less than 1 percent.
Lowering city contractor pay by 10 percent.
"Detroit has had, for a long time, some pretty severe economic difficulties and Mayor Bing recognizes that those have to be fixed somehow. The politics of it, of course, are the real trick," says Charles Ballard, an economist at Michigan State University in East Lansing.
---