Detroit survival plan would cut services to some residents, but not all
It's part of an effort to recast Detroit, which lost a quarter of its population last decade. Some experts say entire swaths of the city should be shut down, but the plan does not go that far.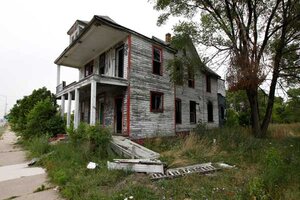 Paul Sancya/AP
Taking a first step to adjust to its dramatic population loss during the past decade, Detroit unveiled a plan Wednesday that would see different parts the city receive different levels of service based on how like they are to grow and thrive in the future.
While Mayor Dave Bing said no community would go without essentials including police, fire, emergency services, and trash collection, the healthier parts of the city would have services – such as economic development and tree trimming – that more-blighted areas would not.
The announcement represents the first action by Mayor Bing's Detroit Works Project, a task force launched nearly 14 months ago to create a long-term plan for the city. With the Detroit population now at 713,777 – more than 1 million less than it was in 1950 and 25 percent less than it was a decade ago – there is widespread agreement that the city needs to take dramatic steps to regain even part of its past prosperity.
The plan attempts to strike a balance between residents who resisted efforts to virtually shut down their areas of the city and urban planners who argue that a much broader and bolder blueprint for the future is needed.
Under the plan, neighborhoods will be classified as one of the following:
Steady: The healthiest neighborhoods, with a high volume of well-kept and owner-occupied homes on land with high property values.
Transitional: Marginal neighborhoods that have a mix of owner-occupied homes and rental properties and have suffered from some population loss.
Distressed: Neighborhoods with the lowest property values, high vacancy rates, significant vacant land, and homes with significant physical decline.
The level of city services will be determined by the neighborhood classification. For instance, distressed neighborhoods will have a comparatively low concentration of public lighting and road improvements. Meanwhile, economic development such as improved commercial corridors will be high for steady neighborhoods but medium and low for transitional and distressed areas, respectively.
The city is rolling out the plan slowly and has begun by designating only three areas of the city for a trial run. Progress will be tracked for six months, and that will determine whether or not the program will expand citywide.
---