Occupy LA report card: Was LAPD fair in evicting protesters?
Police evicted Occupy LA protesters Wednesday, and while some occupiers said the 1,400-strong force was 'overkill,' LAPD has gotten high marks for its communication and restraint.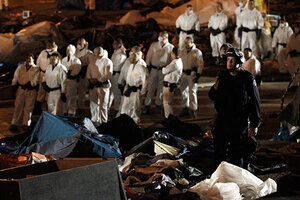 Lucy Nicholson/REUTERS
To Mayor Antonio Villaraigosa, the morning operation that ousted Occupy Los Angeles protesters from their encampment Wednesday "was the finest hour in the history of the Los Angeles Police Department."
"I couldn't be prouder of the men and women of this force," he said at a press conference Wednesday. "This was without question an indication of what we mean when we talk about constitutional policing, when we talk about putting as much effort into serving as protecting."
To Lisa Clapier, spokeswoman for the protest group, which had boasted the largest remaining Occupy movement encampment in the US, the 1,400 police in riot and biohazard gear – with reinforcements at City Hall and Dodger Stadium – "was overkill."
"They didn't need to send in 1,400 police with riot gear and close down seven city blocks," she says. The biohazard gear was because the police were swabbing every arrested protester – about 292 at last count – for DNA and wanted to protect themselves, Ms. Clapier adds.
Mayor Villaraigosa said the operation came off "without injury to any police or protesters." Clapier claims there was at least one head injury and that the police fired rubber bullets into the trees to roust those trying to escape eviction.
---