Arizona legislature OKs guns on campus
Arizona's legislature passed a bill Thursday to allow guns on the streets and sidewalks of public college campuses. Texas is also considering a broader bill to allow guns in campus buildings.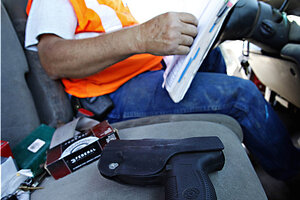 Matt York / AP
The latest attempt to expand gun owners' rights in Arizona – by allowing them to carry their weapons on public college campuses – is now up to Gov. Jan Brewer.
On Thursday, Senate Bill 1467, which had already cleared the Senate, passed in the House 33 to 24. It would allow people to carry their guns when walking or driving through campuses on public streets and sidewalks. The bill was narrowed from its original version, which would have allowed guns in campus buildings as well.
Ever since the Virginia Tech massacre, advocates for allowing guns on campus have argued that people should be able to defend themselves in such situations if security can't respond quickly enough. Some lawmakers have even proposed arming teachers in elementary and secondary schools.
But campus administrators and law-enforcement officers frequently oppose such efforts, concerned that the presence of weapons could lead to more violence.
Only in Utah are people allowed to carry guns into buildings on all public higher-education campuses. In Texas, a bill along those lines was hotly debated this week and appeared to be losing some support, but it could move forward again next week.
Currently Arizona law allows colleges or universities to decide whether to allow guns to be carried on campus, but none of the campuses do, reports The Arizona Republic. Other than Utah, the states are about evenly split between those that leave the decision up to each campus and those that specifically prohibit guns on campus, according to the National Conference of State Legislatures.
---