Vincent Gray beats Adrian Fenty: What does it mean for school reform?
Michelle Rhee, the D.C. schools chancellor, launched aggressive school reforms under Mayor Adrian Fenty. But with Vincent Gray's win Tuesday, she'll probably be ousted.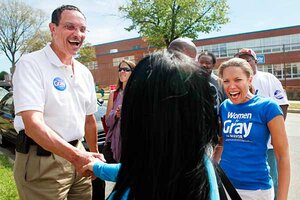 Jacquelyn Martin/AP
With Mayor Adrian Fenty's loss to D.C. Council Chairman Vincent Gray in Tuesday's mayoral primary, all eyes are on what will happen to some of the most aggressive school reforms in the country.
Backers of the reforms in the District of Columbia hail it as a model for changing teacher evaluation and tenure procedures so that measures of performance, including student gains on test scores, hold more weight.
While the election didn't hinge solely on education, a large part of the mobilization against Fenty was prompted by the hard-edged way in which Schools Chancellor Michelle Rhee pursued her strategies – including closing schools and firing teachers and principals. Fenty has given Rhee unwavering support since he appointed her in 2007.
"There's not a city that has embarked on more ambitious and thus more controversial reforms," says Patrick McGuinn, a political science and education professor at Drew University in Madison, NJ. "[A schools chancellor] with a different temperament [than Rhee's] might be able to sustain the reform by building greater consensus, but that probably slows the timetable down.... That's the tradeoff."
---