Why Obama is talking about working with Republicans
Polls now show that Republicans will gain control of the House of Representatives. As President Obama campaigns for Democrats, he says he can work with the GOP after the Nov. 2 elections.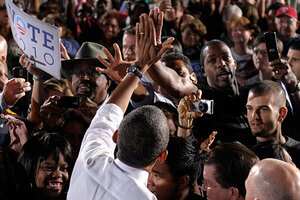 Susan Walsh/AP
Facing the prospect of big Republican gains in Congress, President Barack Obama is sending voters a mixed message: He says he sees opportunities to work with the GOP after Election Day yet warns Washington could be consumed by gridlock if the opposition takes control.
It's a strategy based on Obama's need for voters to see him as the same politician who ran for the White House promising a new era of bipartisanship, at the same time he rallies his base to try to stave off sweeping Republican victories in the Nov. 2 midterm elections.
During a town hall meeting with young people, Obama said there are good GOP ideas, and some issues where he sees an opportunity to work with Republican lawmakers.
"My hope is that as we look forward, let's say on education or on energy, some of the things that we haven't yet finished, that we're going to have a greater spirit of cooperation after this next election," Obama said.
Just two days later, at a private fundraiser near Boston, Obama warned that the prospects of bipartisan cooperation would be slim if Republicans ran Congress. He said it would be nearly impossible for him to advance some important issues, like clean energy and education, or to achieve many of his foreign policy goals.
"Not one of these issues will we be able to make serious progress on if we do not have a strong Democratic Senate," Obama said.
The president's message was even more foreboding at a recent Democratic National Committee fundraiser, when he predicted that a GOP-led Congress would create a stalemate between the White House and Capitol Hill. "We could even go backwards," he said.
White House officials say there's nothing inconsistent in Obama's remarks. Adviser David Axelrod said Obama wants to work with Republicans but his experience from the first half of the administration makes him "a little pessimistic." And he said it's important for voters to understand that the potential for gridlock exists if Republicans take control of Congress.
---