Florida debate: Where's the love? Newt Gingrich hopes audience shows it. (+video)
Newt Gingrich, who is hoping to regain his momentum Thursday night, suggests the silent crowd at the first GOP Florida debate rattled him. Applause is allowed in Jacksonville, CNN says.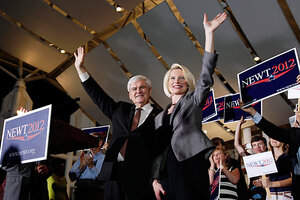 Shannon Stapleton/Reuters
There are two burning questions heading into Thursday night's Republican presidential debate: Will the audience applaud and otherwise express itself? And can Newt Gingrich regain his momentum against Mitt Romney ahead of Tuesday's pivotal primary in Florida?
The two are related. The insurgent Mr. Gingrich, fresh off an upset victory in South Carolina's primary Jan. 21, insists that he needs audience feedback to perform at his best. That, he says, is why he seemed off his game at Monday's debate, where moderator Brian Williams of NBC requested a silent crowd. In fact, Gingrich threatened to skip future debates if audience participation was barred. CNN has said it will ask the audience Thursday in Jacksonville, Fla., to be "respectful" – meaning, applause is OK.
It may be a stretch to suggest that Gingrich has faded a bit in Florida polls because he didn't get raucous audience reactions on Monday night. The former House speaker is also being bombarded with criticism from conservative thought leaders – from Ann Coulter and the Drudge Report to National Review and a growing list of former Republican leaders who worked with Gingrich in the 1980s and '90s.
---