A confident Romney zings Gingrich in Republican debate No. 19 (+video)
MItt Romney was ready to answer questions about his wealth and to rebut rival Newt Gingrich during Thursday's Republican debate, the last before the Florida primary on Tuesday.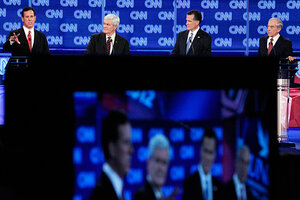 Matt Rourke/AP
Episode 19 in the Great Republican Debate-a-thon may be most remembered for its spirited discussion of moon colonies. But it was Mitt Romney's sharp performance that won the night in the last debate before Florida's crucial primary next Tuesday.
Mr. Romney delivered his most confident answer to date on his wealth – that it is a source of pride, not a reason to apologize. He zinged his top rival for the Republican presidential nomination, Newt Gingrich, over an ad on immigration that he called "repulsive." And he was ready with a comeback when Mr. Gingrich attacked him for having investments in Fannie Mae, Freddie Mac, and Goldman Sachs: Gingrich, he pointed out, has investments in mutual funds that invest in Fannie and Freddie.
Gingrich backed down. The audience, which in previous debates had energized the former House speaker, applauded most for Romney.
The debate in Jacksonville, Fla., capped the week with the highest stakes to date for Romney, the former governor of Massachusetts. He lost last Saturday's primary to Gingrich by 12 percentage points, and needed a strong showing Thursday in a bid to retake momentum. The latest polls of Florida Republicans, taken after South Carolina and before the debate, show Romney may already be on his way: He has reversed his decline and is back on top.
---