Arizona primary: Why McCain is set to beat the anti-incumbent backlash
Polls suggest Sen. John McCain is set to win his primary Tuesday. Some voters have been turned off by his attack ads and big spending in the race against J.D. Hayworth. But it has worked.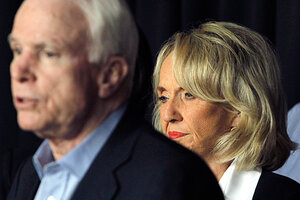 Ross D. Franklin/AP/file
Arizona's primary election Tuesday will bring to an end the aggressive Republican race for the US Senate – a race that at one point threatened to topple four-time Senator and 2008 presidential nominee John McCain.
But with Senator McCain now leading challenger J.D. Hayworth by 20 percentage points in some polls, both Arizona and the nation are turning their eyes toward a potential crackerjack governor's race.
If all goes as expected, the race would pit the state's foremost backer of its controversial anti-illegal immigration law – the Republican governor who signed it – against the law's loudest critic – the Democratic attorney general who opposes it.
Gov. Jan Brewer's approval ratings have soared since she signed in April the immigration law that the Obama administration has challenged in court. Rather than have chief critic and Attorney General Terry Goddard defend the law in court, Governor Brewer took him off the case.
---