Utah Republican convention: How Orrin Hatch (almost) beat back a tea party revolt
As Republicans in Utah have turned more moderate since 2010, veteran US Sen. Orrin Hatch has turned more conservative. Taken together, this nearly helped Hatch survive a tea party challenge at Saturday's Republican nominating convention. Instead, he faces a primary election in June.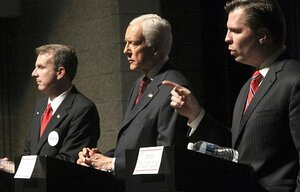 Rick Egan/The Salt Lake Tribune/AP
UPDATE: Utah Republicans denied U.S. Sen. Orrin Hatch a clear path to a seventh and final term Saturday, forcing him into a primary with tea party favorite Dan Liljenquist, a former state senator. Hatch fell short of the nomination by fewer than three dozen votes from the nearly 4,000 delegates at the party convention, the Associated Press reports. Despite the setback, Hatch holds a significant fundraising edge in what has become the stiffest challenge since his election to the Senate in 1976. The eventual Republican nominee will be the heavy favorite in November because of the GOP dominance in Utah. Hatch and Liljenquist will face each other in a primary June 26.
Six-term Senator Orrin Hatch entered today's Republican nominating convention in Sandy, Utah, with the polling winds at his back, suggesting that an aggressive and historically costly campaign to beat back a tea party revolt has worked.
Several polls relesed Saturday give Hatch the support of about 60 percent of Utah Republicans – 4,000 of whom are convention delegates chosen, in a unique system, by neighborhood caucuses throughout the state. Under Utah law, 60 percent support among delegates allows the winner to skip a scheduled June primary and head straight for the general election in November. In conservative Utah, it's largely understood that the GOP nominee becomes the winner of the race.
If Hatch can't reach the 60 percent threshold, he will go into a two-way primary race against his challengers, most prominently former state Sen. Dan Liljenquist and state Rep. Chris Herrod.
---