'Dancing with the Stars': Is tea party conspiracy helping Bristol Palin?
(Read article summary)
'Dancing with the Stars' judges are giving Bristol Palin low marks, but mama grizzly's tea party supporters may be keeping her swirling. What hath Election 2010 wrought?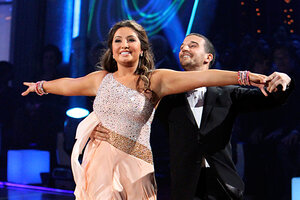 Adam Larkey/ABC/AP
Bristol Palin is no Mick Jagger on the dance floor. So how did the famous teen mom survive last night's "Dancing with the Stars" after crashing through a samba?
A tea party conspiracy, perchance?
Conspiracy is a strong word, of course, seeing that the center of the storm is a fluffy, albeit entirely entertaining, reality show that normally has little bearing beyond popcorn-littered living rooms.
But even the show's producer, Conrad Green, told Bloomberg last week that "it's entirely possible" that young Ms. Palin may be picking up support from her mom Sarah Palin's political supporters and a wave of tea party voters turning their attention from upsetting Washington to tweaking Hollywood. Callers, Mr. Green said, may be behind Bristol Palin "for political reasons."
Callers trump judges
Two weeks in a row Ms. Palin, a frequent tabloid subject, self-effacing mom, and "teen advocate," has received the lowest scores from the judges (including for last night's "instant samba"), but has squeaked through thanks to support from call-in voters, who make the final elimination call.
---