From witches to 'Aqua Buddha': why Election 2010 ads are so outrageous
(Read article summary)
Is Christine O'Donnell a witch? Does Rand Paul worship the 'Aqua Buddha'? These have been the subjects of two legitimate political ads in Election 2010. What's going on?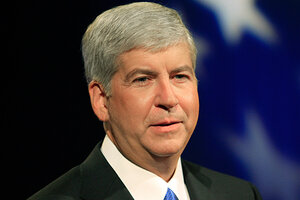 Mandi Wright/AP
Witches, demon sheep, one tough nerd – top costume choices for this Halloween?
Maybe, but at the moment these are just a few of the topics in political ads this midterm election cycle. Opening an ad for Senate candidate Christine O'Donnell of Delaware with the words "I am not a witch"?
Perhaps "brilliant," if you believe to CNN's "Spitzer/Parker" cohost Eliot Spitzer. Perhaps not, if you look at the polls, where Ms. O'Donnell still trails by some 20 points.
But one thing is for sure – outlandish, outrageous, downright kooky ad material, which not too long ago would have been banished to the catchy-but-unthinkable file, is pretty much all over the place.
And, says senior Republican strategist David Johnson, it is here to stay.
The political culture is adjusting to changing viewer and reader habits, he says. With so many sources of information, from TV to the Internet and mobile devices, it's harder than ever to stand out.
---