Democrats target Wall Street as new Election 2010 bogeyman
(Read article summary)
Ads that tie Republicans to Wall Street are boosting early voting returns for some Democrats in Election 2010.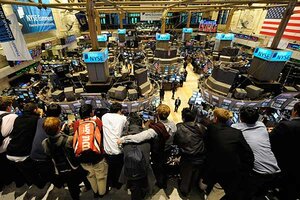 Henny Ray Abrams/AP
Every political campaign has its bogeymen.
This cycle has had more than a few – think China, demon sheep, and even witchcraft. But as election day 2010 comes into view, it turns out the biggest bad guy of all is Wall Street. Of the million or so ad airings in House and Senate races, roughly 15 percent have focused on the high-flying investment sector of lower Manhattan. That's the largest of any single topic, according to the Wesleyan Media Project, which tracks election ads.
As we get closer to Nov. 2, the trend is accelerating, says project co-director Michael Franz. As the actual vote approaches, he says, Democrats are trying to gain leverage with voters. "It makes sense that they would try to paint Republicans as being in cahoots with the big banks that brought on all the financial trouble so they can send the populist message they want voters to hear," says Franz, who is an associate professor of government at Bowdoin College.
---