Sarah Palin releases 'renegades going rogue' video: Who's in it?
(Read article summary)
The new video by Sarah Palin's political action committee is a quick-moving montage of Sarah-backed candidates who won Tuesday, lots of flags, a roaring bear, and a glimpse of Sarah Palin herself. Not included: Christine O'Donnell and the other 'mama grizzlies' who lost.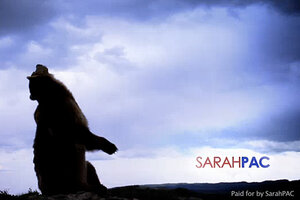 YouTube
Sarah Palin's political action committee has a new video out. It's a montage of "renegades going rogue," in Ms. Palin's words – winning candidates she endorsed and gave money to. (See video below.)
But you'll have to look sharp if you want to see them. The ad has the quick cuts and pace of a music video. Plus Mount Rushmore, lots of flags, the Constitution, and tri-corner hats. The result is a sort of Taylor-Swift-visits-colonial-Williamsburg vibe.
The video starts with a pulsating rock rhythm and a graphic of Alaska superimposed on a map of the continental 48 states. Then, there's Nikki Haley, GOP governor-elect of South Carolina! And that's Kelly Ayotte, New Hampshire's Republican senator-elect! Look, it's Allen West, the first Republican African-American Florida has elected to Congress in a century! Who's that? Oh, that's right – Marco Rubio, the rising tea party senatorial star from Florida. There he is with his wife. There he is with his kids. Why so much Marco?
---
Follow Stories Like This
Get the Monitor stories you care about delivered to your inbox.