George Bush 'Decision Points' – how many books will he sell?
(Read article summary)
Publishers of President Bush's 'Decision Points' have printed up 1.5 million copies. President Bill Clinton's 'My Life' sold 606,000 in its first week, and has totaled 2.2 million since.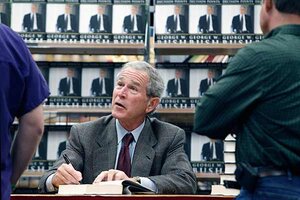 LM Otero/AP
"Decision Points," George Bush's presidential memoir, hit stores Tuesday. The hoopla has been huge – an NBC special, with Mr. Bush interviewed by Matt Lauer; reviews in all major media outlets; and a book tour that kicked off with hundreds waiting in line at a Dallas Borders minutes from Bush's home.
That's publicity that most authors can only dream about. (And they do dream about it – that's why they're authors.) So how many books will former President Bush sell?
Time will tell. But we can guess by the number of books publisher Crown has produced with the first printing, which is 1.5 million. By the standards of current big political books that is fairly modest. Bush should sell at least that many.
After all, "True Compass," the late Sen. Ted Kennedy's memoir, sold just short of 900,000 copies in the last three months of 2009 alone, according to Nielsen BookScan figures. Bill Clinton's post-presidential work "My Life" has sold some 2.2 million copies since its 2004 publication. Sarah Palin's "Going Rogue," which was the number-one non-fiction title of 2009, sold about 2.7 million copies last year. Can Bush match the nation's chief Mama Grizzly? We'll see.
---