Sarah Palin on TLC: Another candidate-in-waiting with a paid TV gig?
(Read article summary)
'Sarah Palin's Alaska' debuts on TLC on Sunday, joining one of the hottest trends in politics: the future candidate as TV personality. Can viewers tell where a show ends and a campaign begins?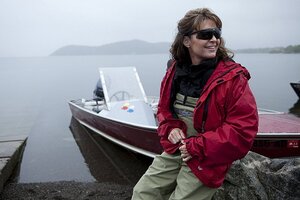 Gilles Mingasson/AP Photo/TLC
In what has 2012 election-watchers holding their breath, former governor Sarah Palin takes to the basic cable airwaves on Sunday with her home state reality show/travelogue, "Sarah Palin's Alaska," on TLC at 9 PM.
The show doesn't answer the question of whether she will run for president in 2012, although it does address another pressing Palin mystery: Can we see Russia from there? "Almost," she says.
But it does fit into one of the hottest political trends of the past few years: political hopefuls landing paid gigs on national media outlets as they unofficially nurse their greater political ambitions. Whether the goal is national, (think Mike Huckabee with his own Fox show, or Rick Santorum, Newt Gingrich and Ms. Palin – all on the Fox payroll) or statewide (think Eliot Spitzer, whom many speculate is priming the pump for another run at New York State attorney general or even governor, now with his own daily CNN show), this is the campaign strategy-du-jour.
---