Sarah Palin's Alaska: You know you want to watch it
(Read article summary)
The new reality TV show "Sarah Palin's Alaska" premiers Sunday night. Palin's image has been slipping lately, according to recent polls. Will her new show change that?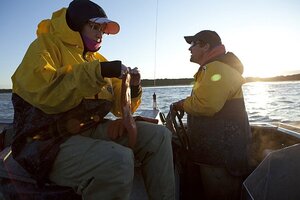 Gilles Mingasson/Discovery Communications/AP
Go ahead. Admit it. You can't wait to tune into "Sarah Palin's Alaska," premiering on TLC Sunday night.
Sarah, Todd, and all the Palin kids hanging out at home or showing us Alaska's natural wonders as backdrop to their vigorous outdoor life. Maybe even a peek into her home broadcast studio where she talks on-air to the guys back at Fox News. Hey, Bristol might show us a few of her "Dancing with the Stars" samba moves!
IN PICTURES: Sarah Palin's fashion
What's not to like?
Like all "reality" shows, it's largely scripted. But we don't care. Former governor Palin – who's been stirring up American politics ever since she rocketed from political obscurity to become the Republican vice presidential candidate and then the tea party's Mama Grizzly – often seems unscripted anyway. So what passes for "reality" may actually be reality. (Or the other way around. I'm not sure.)
Palin's reality TV ploy has kept political pundits guessing about her motive.
---