The 'sinister plot' to derail Donald Trump's presidential ambitions
(Read article summary)
Donald Trump joined 'Fox and Friends' for the first time as a regular Monday to explain how Oprah Winfrey (Democrat and Obama fan) could ruin his presidential appearance.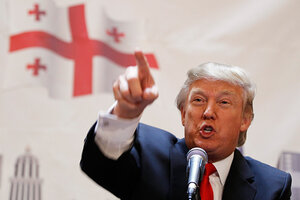 Lucas Jackson/Reuters/File
Donald Trump on Monday made his first appearance as a regular on the "Fox and Friends" cable news show and immediately said something really big – he's worried about a "sinister plot" to derail his possible presidential campaign.
What is this nefarious scheme? It's Oprah Winfrey's professed desire to do a makeover of Mr. Trump's physical appearance on one of her final talk shows before she goes off the air.
"She does want to give me a makeover, I don't know if it's exclusively hair, maybe it's other things too," said the Donald by phone to the Fox News show.
Where does the conspiracy enter in here, you ask? Well, think about it – Oprah's a Democrat! Those people will stop at nothing.
"I'm worried about a sinister plot," Trump continued "The plot is that Oprah supported Obama ... maybe she wants to give me a makeover so that I would not have even a minor chance of beating Obama."
He was kidding, of course. If you're Donald Trump, you have to have a thick skin about hair, and he was bantering things up pretty well there.
"I've had this hairstyle for a long time. I don't know what I would look like with a crew cut," he said.
---