Jon Stewart-Bill O'Reilly confab Day 2: Is 'Daily Show' host turning Republican?
(Read article summary)
'Daily Show' host Jon Stewart appeared again with Fox News' Bill O'Reilly. He sounded unusually Republican, but he's not quite ready to vote for one of the GOP presidential candidates.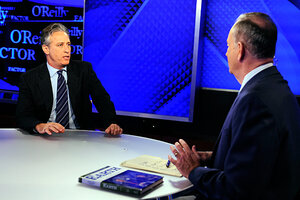 Peter Kramer/AP/File
Jon Stewart was on Bill O'Reilly's "O'Reilly Factor" Tuesday for the second night in a row – and the Comedy Central star sounded more Republican than he generally does on his own show.
Was Mr. Stewart playing to Mr. O'Reilly's Fox News audience? Was he overcome by the sheer brilliance of O'Reilly's rhetoric? Was he just being nice?
The subject Tuesday was presidential politics. It wasn't a continuation of Monday's show, when the pair debated whether the rapper Common should have been invited to a White House poetry event.
When O'Reilly asked Stewart if he'd ever vote for a GOP candidate over President Obama, Stewart said "sure ... I don't think I would ever be able to convince you of that, but I would."
Under what circumstances would he bolt the Democratic Party?
"If I didn't have a clear sense of the direction he wanted to move the country and somebody else had a more logical sense of where to take it," said Stewart.
---