Are the media scared of Ron Paul?
(Read article summary)
News outlets routinely treat the Ron Paul candidacy as a hopeless case, if they mention him at all among GOP presidential hopefuls. He cites fear, but bewilderment might be a more accurate reason.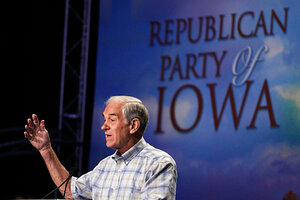 Charles Dharapak/AP
Are the media scared of Ron Paul? The Texas congressman and GOP presidential candidate believes they are.
In an interview with Fox News on Tuesday, Representative Paul ticked off the reasons that reporters should list him in the top tier of Republican wannabes. Paul noted that he did well in the Iowa straw poll, has a strong organization, and can raise money.
But news outlets routinely treat him as a hopeless case, if they mention him at all. Paul says the reason for this is fear, pure and simple.
"They don't want to discuss my views because I think they're frightened by us challenging the status quo and the establishment when it comes to foreign policy and monetary policy, the entitlement system, because my views are quite different than the other candidates'," he said on Fox.
Hmm. Well, he did do well in Iowa, that's true. And Paul has gotten a blip of coverage for that, if he hasn't noticed. Thanks to comedian Jon Stewart scolding the "lamestreamers."
---
Follow Stories Like This
Get the Monitor stories you care about delivered to your inbox.