President Obama on 'The Tonight Show': A good move?
(Read article summary)
President Obama will appear on 'The Tonight Show' Tuesday for the fourth time. The show will give the president a wider audience but might have limited benefits, experts say.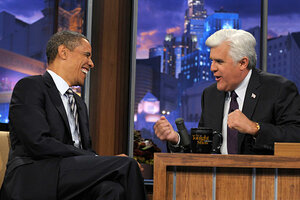 Susan Walsh/AP
President Obama dropped by Jay Leno's "Tonight Show" taping Tuesday morning, presumably to pick up some of the "I'm just like you" dust that rubs off on noncomedians when they hang with comedy hosts.
But the risks and rewards of walking on the lighter side of the media world are very different from what they were when Mr. Obama was a senator and presidental candidate, say political scientists and media analysts.
Entertainment programs do allow the president to reach a larger and often different audience from the one he might get during a traditional news event, says Jennifer Hopper, a political scientist at Washington College in Chestertown, Md. "On the other hand," she notes via e-mail, "the more relaxed atmosphere could make a problematic gaffe more likely."
Obama has appeared on 'The Tonight Show' three times before, but only once as president. In that March 2009 appearance, the president was widely criticized after he joked on "The Tonight Show" about his low bowling score, saying his bad skills are "like the Special Olympics."
---