Social media age shocker? On politics, newspapers get more respect.
(Read article summary)
A survey of likely 2012 voters found that newspapers, followed by broadcast and cable TV, are considered the most reliable source of election news. Trust in national media, however, is very low.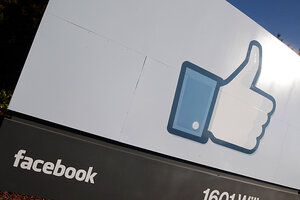 Paul Sakuma/AP
Turns out that while newspapers may be hurting for revenues, they still have a bit of what Rodney Dangerfield couldn't get – respect.
A new survey of likely voters in the 2012 election confirms what many media watchers have been tracking for some time: trust in national media, particularly newer forms such as blogs and social media, is extremely low, hovering between six and 13 percent.
The most reliable source of election news, as gauged in this January survey of 1,000 cell and land-line phone respondents – are print newspapers, with 22 percent of respondents saying they are trustworthy. Broadcast and cable TV came in a close second, nestled right at 21 percent, while talk radio and Internet news sites ranked much lower.
According to the report released Thursday – and sponsored by the man behind craigslist, Craig Newmark himself – fewer than a quarter of those who took the time to answer questions felt that election news coverage was reliable.
Yet, at the same time, points out Mr. Newmark, who has posted an infographic detailing the survey results on his craigconnects website, "people want news they can trust."
However the media as a whole are following a downward path led by the politicians they cover, points out Dr. Ben Agger, director of the Center for Theory at the University of Texas, Arlington's Sociology Department.
Since Watergate, he points out, people haven't trusted politicians. Now, he says by email, "they don't trust news media to provide anything but infotainment."
There is some irony in the fact that it was young Washington Post sleuths who uncovered the truth about the Watergate "plumbers" and brought down a president, he says, noting that journalism had "instant credibility."
---