Republican skepticism challenges US-Russia treaty on nuclear weapons
President Obama is facing Republican opposition and midterm elections in his push to have the US-Russia Strategic Arms Reduction Treaty ratified before year's end.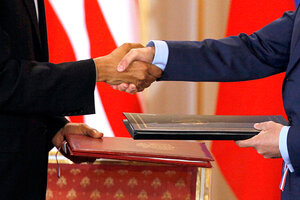 Petr Josek/Reuters
The White House will be scrambling in the coming weeks to answer the objections and questions of key Republican senators to aspects of a new arms control treaty with Russia. President Obama would like to see the treaty ratified by the end of the year.
But with the November midterm elections fast approaching, and with some Republican voices calling for no significant legislation to be considered in a post-election lame-duck session, prospects for what is widely considered to be President Obama's most significant foreign-policy achievement to date may be wilting with every passing hot Washington summer day.
Democrats, many nonproliferation advocates, and some of Washington's NATO allies are pushing for the new Strategic Arms Reduction Treaty, or START. They warn that allowing it to languish jeopardizes the vaunted "reset" of US-Russia relations. Beyond that, they see President Obama's vision for arms reduction hanging in the balance.
---