Obama, Medvedev sign START treaty on nuclear weapons, but Russia is uneasy
President Barack Obama and Russian President Dmitry Medvedev signed the START treaty on nuclear weapons today. While both hailed the missile reduction pact as a landmark, Russia is uneasy about its strategic future.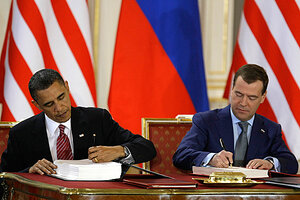 Mikhail Metzel/AP
Presidents Barack Obama and Dmitry Medvedev flourished their pens and signed the START nuclear missile reduction treaty in Prague today. The deal was a year in the making and represents the first major strategic accord between the former superpowers since the end of the cold war.
It was a warm and smile-filled "kumbaya" moment for the US and Russia, whose relationship has seen some stomach-churning ups and downs in recent years. President Obama hailed the agreement as an "important milestone for nuclear security and nonproliferation and for US-Russia relations."
But the gloomy signals coming out of Moscow this week suggest that the Russians harbor serious doubts about the viability of the treaty they just signed and even deeper misgivings about Barack Obama's changes to US nuclear weapons doctrine that are ostensibly aimed at moving toward a nuclear weapons-free world.
---