'Clean cookstove' program aims to improve health of world's women
Exposure to smoke and toxins from cooking fires is blamed for the deaths of millions of women and children each year. A public-private partnership, announced by Hillary Clinton Tuesday, is on a global clean cookstove mission.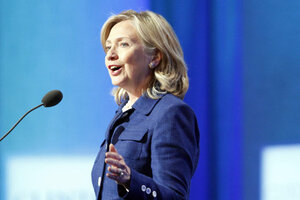 AP
Cooking daily over open fires, or on inefficient clay stoves, poses risks to hundreds of millions of women and children that US Secretary of State Hillary Rodham Clinton, for one, is working to reduce.
On Tuesday, she announced an initiative to make clean and efficient cookstoves available to women around the world – an effort to reduce the more than 2 million deaths each year that health officials attribute to women's exposure to smoke and toxins from cooking fires.
The smoke and soot of the family hearth are also a major cause of pneumonia in infants – a leading factor in the stubbornly high infant-mortality numbers affecting some of the world's poorest countries, public health officials say.
The cookstove initiative is a partnership of governments, nongovernmental groups, and private companies. The idea is not simply to flood poor countries with a one-size-fits-all cooking alternative – an approach that hasn't gotten very far in the past – but rather to consult finicky local tastes and use local markets to develop and distribute different cookstoves for different regions and cultures. The objective: create cleaner, healthier, environmentally sound and locally adapted stoves that women will want.
"If local tastes are not consulted, [the stoves] will stack up and not be used. That's why a market-based approach is needed," Secretary Clinton said in announcing the Global Alliance for Clean Cookstoves at the annual meeting of the Clinton Global Initiative, former President Bill Clinton's international development organization.
---