Trade imbalance and 'currency wars' flummox G20 nations
G20 nations are in danger of escalating currency wars, as each strives to give its exports a price advantage on the world market. Anxiety rises as finance ministers meet this week.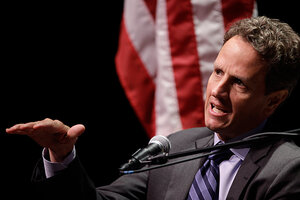 Paul Sakuma/AP
The risk that exchange-rate battles will harm the fragile global economy was the top policy concern as world finance ministers begin a multiday meeting this week.
It's an issue that pits the United States prominently against China, but that also is stirring anxiety among other nations in the Group of 20, which gathered for talks Thursday in Gyeongju, South Korea.
A key problem is that many G20 nations view exports as a central strategy for growing jobs amid a tepid world economy. If nations nudge their currencies to weaken, or try to avoid a sharp currency rise, then their exports become more attractive on world markets.
But this widely held strategy may be running up against its limits. US Treasury Secretary Timothy Geithner said this week an imbalanced pattern of global trade must become more "sustainable," in contrast to the current pattern in which the US runs large trade deficits while Asian nations push export-led growth strategies.
"I think that [the Chinese] will eventually need to adjust their exchange rate," says Joseph Stiglitz of Columbia University in New York, a former chief economist at the World Bank.
---