Can Pakistan force US to back off special ops and drone attacks?
Pakistan is trying to use the case of the CIA's Raymond Davis to limit US drone strikes and covert operations on its soil. But with its reliance on US aid, how much leverage does it really have?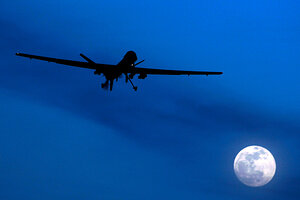 Kirsty Wigglesworth/AP
The US counterterrorism strategy in Afghanistan has long relied heavily on covert operations in neighboring Pakistan: US intelligence agents and Special Forces units working to find out which extremist groups were planning what actions, and American drones attacking the safe havens in northwest Pakistan from which the Taliban launch cross-border operations.
That strategy has been thrown for a loop by Pakistan's latest demands: that the CIA drastically reduce its numbers in the country and that the intensely unpopular drone strikes be reduced and henceforth only launched by a binational decision-making process.
Pakistan has made similar demands before, and this time around it may be using what it sees as an opportune moment to try to gain more influence over US operations – perhaps to nip what it sees as an increasingly "go-it-alone" US counterterrorist approach within Pakistani borders.
But some regional experts say that, whatever its aims may be, Pakistan is now pushing the never-easy relationship with the US harder than ever before.
---