Can Mideast Quartet entice Palestinians to drop plan for UN vote on statehood?
Seeing peril from a UN vote in September on Palestinian statehood, the Mideast Quartet is seeking a way to bring Israelis and Palestinians back to the negotiating table, which has sat empty for months.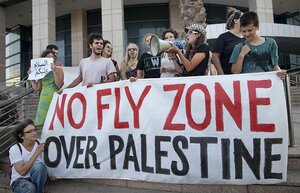 Dan Balilty/AP
The Middle East Quartet, the diplomatic powers focused on encouraging the peace process, is set to meet in Washington Monday with the aim of paving the way for a relaunch of long-stalled Israeli-Palestinian peace talks.
Prompting the unusual midsummer meeting of the four powers – the United States, European Union, Russia, and the United Nations – is no sudden uptick in violence, and certainly no signs that the two sides are itching to get back to the negotiating table, which has sat unused since last September.
Instead, the impetus is the Palestinian plan to seek a vote by the UN General Assembly in September recognizing the state of Palestine.
Fearing that such a move would divide the international community at a particularly sensitive moment in the Arab world, and could ultimately feed a return to violence, the Quartet wants to set acceptable terms for both sides to resume peace talks in the coming weeks.
The idea is that a return to direct talks broadly following an outline set by President Obama in his May speech on the Middle East would allow the Palestinians to back down from their insistence on a statehood vote.
---