SB1070: appeal seeks to reinstate all parts of Arizona law
The toughest provisions of SB1070, the Arizona law about illegal immigration, were blocked Wednesday by a judge. Arizona Gov. Jan Brewer said Thursday she is appealing the decision.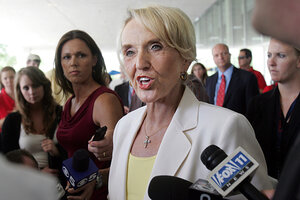 Jill Torrance/Arizona Daily Star/AP
Lawyers for Arizona Gov. Jan Brewer on Thursday asked a federal appeals court to reverse a judge's decision to block key portions of SB 1070, the state's controversial immigration law.
The lawyers want a three-judge panel of the Ninth US Circuit Court of Appeals, based in San Francisco, to take up the case on an expedited basis.
At issue is whether US District Judge Susan Bolton was correct when she ruled that major sections of the Arizona law would have impermissibly interfered with the federal government's authority to decide how best to enforce immigration laws. A stripped down version of the Arizona law took effect Thursday.
In authorizing the appeal, Governor Brewer said the problems prompting the Arizona law were caused by lax enforcement of immigration statutes by the federal government.
"America is not going to sit back and allow the ongoing federal failures to continue," she said. "We are a nation of laws and we believe they need to be enforced."
Brewer added, "I will not back down."
On Wednesday, Judge Bolton issued a temporary injunction blocking enforcement of key parts of the new law, including a provision requiring law enforcement officials to check the immigration status of anyone during a routine stop whenever police had reasonable suspicion that the individual was an illegal immigrant.
---