With ruling, battle over Arizona immigration law enters new phase
Both opponents and supporters of the Arizona immigration law are confident of winning in the end. But Wednesday's ruling may cool tempers for a while.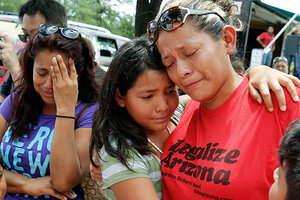 Ross D. Franklin/AP
A federal judge's decision Wednesday to halt key elements of the Arizona immigration law before they took effect moves the battle over the law into a new and perhaps less visceral phase, with both sides saying time is on their side.
Backers of the law view the preliminary injunction that Judge Susan Bolton issued as a bump in the road, preventing some portions of the statute from being implemented as the legal fight continues.
"SB 1070 [the law] is a grassroots movement and the law has been an evolutionary movement forward," says Bob Dane, a spokesman for the Federation for American Immigration Reform (FAIR).
Meanwhile, opponents of the law note that Judge Bolton's injunction is temporary.
"It's a partial victory," says Isabel Garcia, a Tucson attorney and activist.
While the conclusion of the winding legal path ahead is far from clear, Wednesday's decision does appear to have temporarily stilled some of the anger and emotion that has surrounded the issue since the spring.
Some of the law's supporters said they had no plans to mount large protests of the decision. At the same time, Bolton's decision to stop implementation of the law's most controversial feature – requiring police to determine the status of suspects believed to be in the country illegally – has taken a measure of urgency out of anti-SB 1070 protests planned for Thursday. Opponents had feared that that section of the law would lead to racial profiling against Hispanics.
---