Elena Kagan: Despite partisan splits, confirmation appears likely
Elena Kagan debate began in the Senate Tuesday. The start of several days of discussion over her nomination to the Supreme Court was marked by partisan divides, but Elena Kagan is expected to easily win confirmation.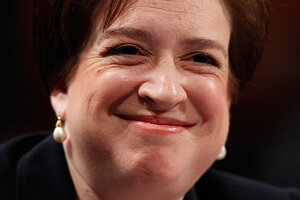 Alex Brandon/AP
The US Senate on Tuesday opened debate on the nomination of Elena Kagan to the US Supreme Court, with Democrats praising her intelligence, good humor, and moderate judicial philosophy and Republicans predicting that she'll use her seat to advance a liberal agenda.
Although the expected three-day discussion on the Senate floor is intended to examine Ms. Kagan's suitability for a lifetime appointment to the high court, the senators' comments Tuesday often reflected a larger debate over the future course of American law – including the constitutionality of President Obama's health-care reform law.
While Republicans attacked Kagan's lack of judicial experience and limited experience as a lawyer, Democrats countered by attacking the conservative wing of the Supreme Court under Chief Justice John Roberts.
Senate Judiciary Committee Chair Patrick Leahy (D) of Vermont said the court's conservatives are engaged in an activist campaign to enforce a "radical conservative agenda."
---