Arizona brief: judge made 'serious errors' in blocking SB 1070
Lawyers for Gov. Jan Brewer have filed a legal brief to a federal appeals court. They are seeking to have the injunction against key parts of the Arizona immigration law, SB 1070, lifted.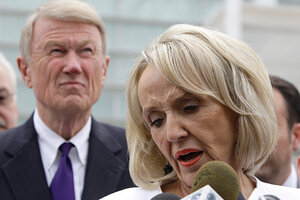 Ross D. Franklin/AP/file
A federal judge in Phoenix made "serious errors" when she agreed with the Obama administration and blocked key sections of a controversial Arizona immigration law, according to lawyers for Arizona Gov. Jan Brewer.
The lawyers made the comments in their opening legal brief asking a federal appeals court in San Francisco to overturn the judge's order and allow the Arizona law, known as SB 1070, to take full effect.
Justice Department lawyers are expected to file a reply brief with the appeals court by Sept. 23. Oral argument at the Ninth US Circuit Court of Appeals is expected in early November.
US District Judge Susan Bolton ruled on July 28 that the Arizona law was preempted by federal immigration laws. She blocked provisions in the law that required all noncitizen residents to carry their federal immigration card, and that made it a state crime for an illegal immigrant to work in Arizona.
---