Supreme Court set to take up massive Wal-Mart discrimination case
On Tuesday, the Supreme Court will decide whether 1.5 million women can form a 'class' that faced the same injury – in this case, gender-based discrimination by Wal-Mart – or not.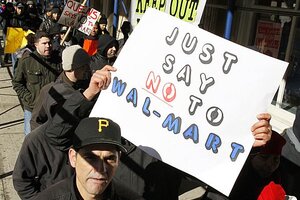 Brendan McDermid / Reuters / File
The United States Supreme Court on Tuesday takes up the largest employment discrimination lawsuit in US history, a case pitting the world's biggest retailer, Wal-Mart Stores, Inc., against more than 1.5 million current and former female employees.
The lawsuit, filed in 2001, alleges that Wal-Mart discriminated against women workers by paying them lower wages and promoting them less often than male employees. If the female workers win, it could cost Wal-Mart more than a billion dollars.
Wal-Mart denies the allegations.
But that's not the issue before the high court.
The justices must address whether lower court judges were correct in allowing the women to join together in a single, massive lawsuit against Wal-Mart.
How the court answers that question could make it harder or easier for plaintiffs to band together in a wide range of lawsuits, including cases involving discrimination, civil rights, the environment, securities fraud, and dangerous products.
Corporations and business groups, who have long sought to limit the size and scope of such class-action lawsuits, have filed friend-of-the-court briefs siding with Wal-Mart. Women's groups and civil rights organizations have filed briefs supporting the female employees.
Marcia Greenberger, founder of the National Women's Law Center, says the case will be critical in the fight for women's rights and employee rights.
---