Supreme Court refuses to hear Guantánamo Bay detainee case
The Supreme Court turned aside a second appeal from five Uighurs, held at Guantánamo Bay's prison camp since 2002 despite admissions from the Bush administration that they are neither enemy combatants nor connected to Al Qaeda or the Taliban.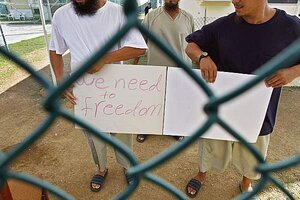 Brennan Linsley / AP / File
The US Supreme Court on Monday declined to take up the plight of five detainees at Guantánamo who were ordered released in 2008, but still remain at the detention camp in a dispute over whether they could be transferred to the US pending their resettlement to another country.
The action marks the second time the high court has turned back an appeal by the same group of men, all members of China's persecuted Uighur minority. Last year, the justices refused to hear the Uighurs' case after the government revealed that all of the men had received at least two offers for resettlement in a third country, but had rejected them.
Justice Stephen Breyer cited the same issue in the high court's refusal Monday to take up the case. "Under present circumstances, I see no government-imposed obstacle to petitioners' timely release and appropriate resettlement," he wrote in a two-page statement. The comment was joined by Justices Anthony Kennedy, Ruth Bader Ginsburg, and Sonia Sotomayor.
The five Uighurs have been held without charge at Guantánamo since 2002. Normally, detainees released from Guantánamo are sent to their home country. But because the Uighurs are a persecuted group whose members might be subject to torture or other punishment if returned to their native western China, the US government sought to find another appropriate country – other than China – for resettlement.
---