Death penalty reprieve in Colorado: what it could mean for James Holmes
Colorado Gov. Hickenlooper called off the execution of a death row inmate, firing up the death penalty debate and potentially complicating the prosecution of alleged Aurora shooter James Holmes.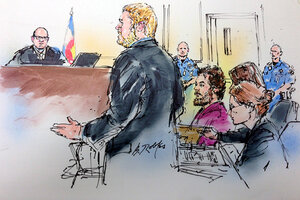 Bill Robles/Reuters
Colorado Gov. John Hickenlooper has called off the execution of one of the state's three death row inmates, churning new debate over the wrenching issue of capital punishment as the state prepares for the trial next year of accused Aurora movie theater shooter James Holmes.
"Our system of capital punishment is imperfect," he told reporters gathered Wednesday outside the state capitol. "There's inherent inequity at a level of punishment that really does demand perfection."
In an executive order granting a "temporary reprieve" to Nathan Dunlap, who was convicted of murdering four people in a suburban Denver restaurant in 1993, the governor wrote that "death is not handed down fairly" in the state and cited national and international trends toward abolition of the practice.
The death penalty is an issue that Governor Hickenlooper, a Democrat, has dodged deftly until now – and with good reason. For a governor who ran as a moderate in 2010, he has already been dragged leftward on a laundry list of social issues: the legalization of marijuana, civil unions, and, most visibly, gun control. That's caused rising unease in a state that, while recently slanting leftward, retains a strong conservative base.
Now, with Wednesday's executive order, which will be in force unless revoked by another executive order, the governor has set himself up for an emotional confrontation with conservatives in next year's gubernatorial race.
Republican Attorney General John Suthers, echoing sentiments expressed by many prominent conservatives in the state, said in a statement that Hickenlooper "has proven to be uncomfortable confronting the perpetrators of evil in our society."
The governor's announcement also circles back to what has become one of the most unexpected political challenges of his term in office: the aftermath of last summer's Aurora shooting.
Although his order was specifically targeted at Mr. Dunlap, it will throw a wrench into the prosecution of Mr. Holmes, says Karen Steinhauser, a former prosecutor and Colorado defense attorney.
---