Pentagon shifting Afghanistan war strategy to 'shoot more bad guys'?
A White House review of Afghanistan war strategy finds progress, but at the Pentagon support is growing for a shift toward more hard power.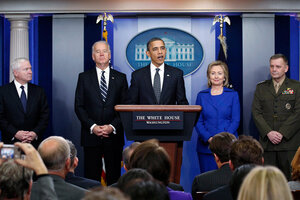 Kevin Lamarque/Reuters
The White House assessment of the war in Afghanistan released Thursday does not stray from the Pentagon's prediction that, by year's end, there would be notable progress on the ground there. A bit surprising, however, has been the subtle movement of some senior military officials and key White House advisers away from counterinsurgency – and toward a more cost-effective, and less troop-intensive, strategy.
The assessment of the US military's work this year, prepared by the National Security Council with considerable Pentagon input, finds "notable operational gains" since thousands of US troops were surged into the country under President Obama's orders. "Most important, al Qaeda senior leadership in Pakistan is weaker and under more sustained pressure than at any other point since it fled Afghanistan in 2001," reads the report.
As expected, it paints a rosier picture than does the National Intelligence Estimate, the summary of progress put forward by 16 US intelligence agencies and released to some members of Congress last week.
---