Why Obama's bid to prevent loose nuclear weapons is going slowly
President Obama wants to secure loose material for nuclear weapons by 2013. He has made progress, but success depends on countries disclosing sensitive information.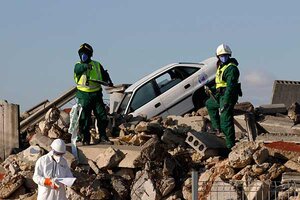 Andrea Comas/Reuters
One of the greatest threats facing the United States is the possibility that a terrorist organization could steal a nuclear warhead or other dangerous materials from poorly-secured stockpiles throughout the world and use it to build a device that could harm millions.
That is the assessment of a little-noticed US Government Accountability Office (GAO) report released earlier this month.
The threat was front and center in President Obama's mind in April, 2009 when he unveiled a plan developed by the National Security Council to secure all vulnerable nuclear materials throughout the world within four years.
The GAO report examines how this strategy is progressing – and whether it is realistic.
Its conclusion is that while there has been progress, the plan, coordinated by the National Nuclear security Administration (NNSA) and stretching across the Defense, Energy, and State Departments, lacks some key details. These include identifying precisely where the vulnerable materials, including highly enriched uranium (HEU) and plutonium are – and knowing exactly how much of them various countries have.
This information is difficult to convince other countries to share. In China and India, for example – two countries believed to have large nuclear material stockpiles, according to the GAO report – "political sensitivities have limited NNSA's efforts in both nations to the relatively non-controversial exchange of nuclear security best practices."
---