Deadly helicopter crash shows danger of Osama bin Laden-style raids [VIDEO]
A NATO helicopter was shot down while on a nighttime raid in Afghanistan, killing 31 US special-operations troops. Nighttime helicopter raids are an essential tool of counterterrorism.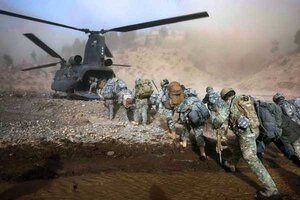 Newscom/File
Investigations into the helicopter crash Saturday that Afghan President Hamid Karzai said killed 31 US special forces and seven Afghan Army personnel – the largest single American loss of life in the 10-year war – will be of critical importance to the Afghanistan war.
Military officials have yet to confirm details, but numerous reports suggest that the troops were on a nighttime raid in Wardak Province, which neighbors Kabul, when the Chinook was brought down by enemy fire. The Taliban have claimed responsibility.
As witnessed by the killing of Osama bin Laden in May, nighttime helicopter raids are perhaps the most effective counterterrorism tool available to the US and its coalition partners in Afghanistan to root out and kill terrorist leaders. Without them, or with fewer of them, the American and Afghan prospects for success could be significantly compromised.
---