Drone pilots: Why war is also hard for remote soldiers
Drone pilots are far from the battlefield, but they show some of the same signs of stress as do soldiers fighting on the ground. Now a movement in the military is afoot to assist these techno-warriors.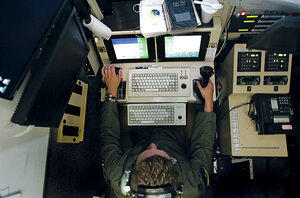 Tony Avelar/The Christian Science Monitor/File
America's decade-long wars in Iraq and Afghanistan have seen drone aircraft piloted from thousands of miles away become a primary instrument of American military might. But the Pentagon is only now beginning to come to grips with the question of what is it like for those pilots to "telecommute" to a battlefield – and what effect that is having on them.
The Pentagon calls it "telewarfare" – pilots fly unmanned aerial vehicles, or UAVs, out of places like Creech Air Force Base in Nevada, from trailers equipped with video screens that allow them to watch the activity of insurgents half a world away and, when given an order, to kill them.
At the end of the day, these pilots then get in their cars and drive home to their families, mow the lawn and make dinner, or take their children to soccer practice.
RECOMMENDED: Unmanned drone attacks and shape-shifting robots: War's remote-control future
The result is an "existential conflict" in some UAV pilots, says Col. Hernando Ortega, surgeon for the Air Force Intelligence, Surveillance, and Reconnaissance Agency. It is "a guilt feeling, perhaps – or a 'Did I make the right decision?' " he explains. " 'Was this a friendly fire incident? Was it a good outcome? Was it a bad outcome? Could I have done it better?' "
---