Christmas Day terrorist attack: have 9/11 reforms failed?
Congress is gearing up to look into why the security changes made after 9/11 didn't prevent the failed Christmas Day terrorist attack on an airline landing in Detroit.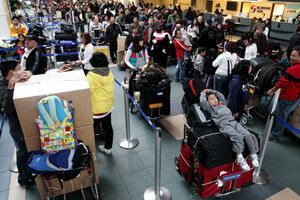 Darryl Dyck/Canadian Press/AP
Homeland Security Secretary Janet Napolitano aimed to reassure the traveling public when she said Sunday that "the system worked" in an aborted Christmas Day terrorist attack on Northwest Flight 253. Instead, she set off alarms on Capitol Hill.
The comments were the first salvo in what's likely to be an intense period of oversight of post-9/11 national security systems when Congress returns in January.
"There's much to investigate here. It's amazing to me that an individual like this who was sending out so many signals could end up getting on a plane going to the US," said Senate Republican leader Mitch McConnell.
Secretary Napolitano backed off her original statements Monday. What worked was the department's response to the incident, she explained. Within 90 minutes, all 128 planes already in the air from Europe were notified to take appropriate action. There was no panic.
"No secretary of homeland security would sit here and say that a system worked prior to this incident which allowed this individual to get on this plane," the secretary told Fox News on Monday.
Red flags
---