Healthcare reform: Obama makes big push in Glenside, Pa.
At Arcadia University in Glenside, Pa., Obama acknowledged Monday that trying to pass healthcare reform will be a heavy political lift.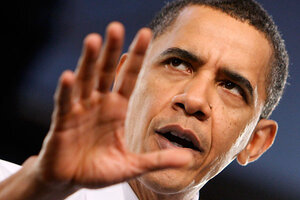 Charles Dharapak/AP
President Obama is in do-or-die mode on healthcare reform.
In a campaign-style speech at a university in Glenside, Pa., Monday, the president exhorted wavering Democratic lawmakers to enact reform and rejected arguments that the timing is wrong, given the weak economy.
"If not now, when? If not us, who?" Mr. Obama said, calling the status quo "unsustainable" for the nation. "Think about it: We've been talking about healthcare for nearly a century. I'm reading a biography of Teddy Roosevelt right now. He was talking about it, Teddy Roosevelt."
Obama acknowledged the heavy political lift involved – trying to gain passage of a bill that a majority of Americans do not like or even necessarily understand. But, he said, he will push to pass reform regardless of the political consequences.
"I don't know how passing healthcare will play politically, but I do know that it's the right thing to do," the president said in his speech at Arcadia University, which is in the Philadelphia area.
---