In offshore drilling freeze, rumblings of a new era for oil industry
The six-month moratorium on new deepwater offshore drilling announced by President Obama Thursday isn't likely to have a big impact on the oil industry – unless it's a sign of things to come.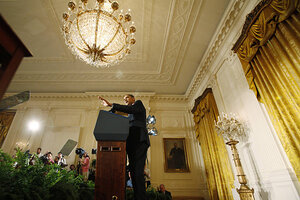 Jason Reed/Reuters
In itself, President Obama's decision to impose a six-month pause on offshore oil leasing, announced Thursday, is unlikely to have any great impact on US oil supplies or prices in the short run.
But within the oil industry, there is some concern that this offshore drilling moratorium could be the beginning of a new oil regime, with significantly tougher regulations to follow, as Mr. Obama promised.
US companies still see the Gulf of Mexico as their backyard with a stable, relatively predictable political and regulatory regime. But if new strictures on the oil industry are seen as being too reactionary, the move could in the long run drive companies to less tightly regulated places like Angola in their search for the next big discoveries. That could mean a loss of jobs in Gulf states and possibly weaken US energy security.
IN PICTURES: Louisiana oil spill
"This could be a speed bump, or it could be the beginning of a transition toward long-term decline in US oil production," says David Pumphrey, an energy analyst at the Center for Strategic and International Studies in Washington. "It could put us in the position of importing more oil and possibly facing slightly higher oil prices in future because less non-OPEC oil is moving into the marketplace."
---