Unsure how to vote in California primary election, many turn to Twitter
Voters in the California primary election and elsewhere cast increasingly cluttered ballots Tuesday, and many first turned to social media for a personal touch to help shape their opinions.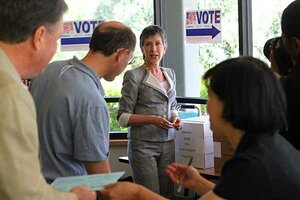 Robert Galbraith/Reuters
The voter information pamphlet at the Studio City Recreation polling place for Tuesday's California primary election is 80 pages long, and as poll worker Angelica Torres says with a laugh, "it's just too big, too much."
Voters headed to polls in 12 states Tuesday with a fall election just around the corner. As ballots get ever-more-complicated, packed with a growing number of sometimes byzantine propositions, not to mention complex and controversial candidate positions, the question arises: how are people actually deciding which button to press, chad to poke, or lever to pull?
Those traditional tools of past political campaigns such as TV or radio ads are still a mainstay of political consultants. But increasingly, say both the experts and the voters themselves, the politically interested are turning to sources of information that deliver a personal touch, whether it is a spouse, a union rep, or – for the younger generations – a tweet or online status update.
"As traditional media have gotten more venomous and partisan, people are looking for sources that deliver credibility," says Rochester Institute of Technology media expert Andrea Hickerson. "If it has the added benefit of feeling as if it comes from a trusted friend or contact, as social media does, it is that much more powerful."
---