Obama payroll tax cuts: Economists differ on how many jobs they'd create
The proposed payroll tax cuts amount to about half of the Obama jobs plan. Some economists say the cuts could add a million jobs, others call the strategy a waste of money.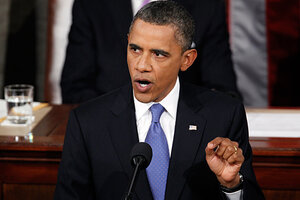 Charles Dharapak/AP
At the center of President Obama's new jobs plan are two proposed cuts in the payroll tax on wages – one aimed at workers and one at employers.
Together, those cuts account for about half of the $447 billion plan to boost job creation in a weak economy.
Will the idea work?
By one important criteria it has at least a shot at working: It might actually pass Congress. That's not a sure thing, but political analysts give the payroll tax cuts better odds of passing the Republican-controlled House than other elements of Mr. Obama's plan, including new spending on roads, schools, and summer jobs for teens.
If passed, economists say it should generate jobs by two channels.
The tax cut, which flows into worker paychecks, should boost consumer spending on goods and services by adding some $1,500 to the typical household income. And separate relief on the payroll taxes paid by employers might allow them to hire people sooner than they otherwise might.
Exactly how many jobs would be added is a matter of educated guesswork for economists.
Mark Zandi, chief economist at Moody's Analytics, figures that Obama's whole jobs package, if enacted, would have a meaningful impact on employment, adding nearly 1.9 million jobs to the economy during 2012. That could mean the unemployment rate falls from 9.1 percent to about 8.3 percent.
More than 1 million of those jobs would come from the payroll tax cuts.
Some forecasters don't see such big gains in jobs, however. "The government spent a lot of money trying to stimulate the economy and obviously has not succeeded," says Ed Yardeni, who heads an economic research firm based in Great Neck, N.Y. "I think a lot of the money has been wasted."
---