Presidential debate turns into Rock 'Em, Sock 'Em Republicans
The focus of Tuesday's Republican presidential debate was supposed to be Herman Cain, but Rick Perry and Mitt Romney went at each other like heavyweights, suggesting that each thinks the other is his main competition.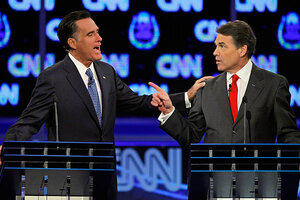 Chris Carlson/AP
Former Massachusetts Gov. Mitt Romney was the prime target in Tuesday night's Republican presidential debate in Las Vegas, signaling the degree to which he's considered the candidate to beat.
In a debate notable for bickering, animosity, and highly personal exchanges, Mr. Romney played the part of punching bag on numerous occasions, most notably on health care and immigration. And for the first time in the eight Republican debates to date, Romney appeared flustered at times, especially as opponents repeatedly interrupted his rebuttals.
"You just don't have the credibility, Mitt, when it comes to repealing ObamaCare," former Pennsylvania Sen. Rick Santorum charged in one early exchange – claiming, as other candidates did, that Romney's plan in Massachusetts that included an individual mandate was "the basis for ObamaCare."
A little later, Texas Gov. Rick Perry fielded a question about the number of uninsured children in Texas and turned it into an attack on Romney's immigration stance, citing a lawn-care company Romney once used that employed illegal immigrants.
"You lose all your standing from my perspective, because you hired illegals in your home," he said, calling Romney's immigration policy "the height of hypocrisy."
Romney countered that he's "never hired an illegal in my life," and added that "it is hard in this country as an individual homeowner to know if people who are contractors, working at your home, have hired people who are illegal."
Romney got into bickering matches with both men, repeatedly calling on them to stop talking so he could defend himself.
---