Will new right-to-work laws worsen the gender pay gap in Michigan?
Michigan already ranks among the worst states for gender pay equity. Critics of its new 'right-to-work' laws say they limit the power of unions, which historically have helped close wage gaps.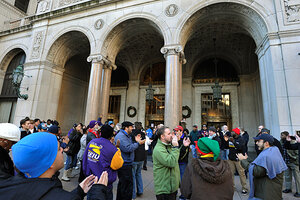 Daniel Mears/Detroit News/AP
The new right-to-work laws in Michigan, already one of the worst states for gender pay equity, may represent a step backward when it comes to narrowing the gender pay gap in the state, data show.
Right-to-work laws, signed by Gov. Rick Snyder on Tuesday, prohibit unions from requiring workers to pay dues, draining the funds needed for negotiating contracts and representing workers' grievances. Right-to-work supporters say this will give workers freedom of association and promote job creation.
But critics of the legislation say that workers' wages will drop without unions' collective bargaining power. The law will impact all workers, the critics say, potentially reducing salaries and benefits, but it could disproportionately affect women, who already have lower annual earnings than men.
The average full-time worker in a right-to-work state makes approximately $1,500 less per year than a similar worker in a non-right-to-work state, according to a briefing paper by the Economic Policy Institute (released in February 2011). And women's wages in right-to-work states are 4.4 percent lower than in non-right-to-work states, while men's are only 1.7 percent lower, according to the EPI analysis.
"The policy hurts everybody, but women and minorities to a larger extent," says Carol Rosenblatt, executive director of the Coalition of Labor Union Women.
---