'Sequester' may be 'dumb,' but most Americans like idea of spending cuts
About 62 percent of Americans see government spending as inefficient and bloated, a new Monitor/TIPP poll shows. They also much prefer general spending cuts to tax hikes or cuts in entitlement programs.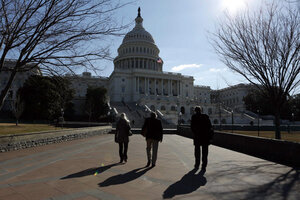 Kevin Lamarque/Reuters
Americans may not view the "sequester" as an example of brilliant budgeting, but they largely agree on one thing: They support the idea of cutting federal spending.
At least that's what a new Christian Science Monitor/TIPP poll indicates, at a time of high-stakes bargaining in Washington over the size of the federal budget.
The public's approval for spending cuts isn't rooted in expectations that they will help the economy in the short term. But it does appear tied to concerns that high federal deficits should be controlled, and that the government could use the same kind of belt-tightening that millions of private households have gone through in recent years.
The Monitor/TIPP poll asked Americans to say which of two views they agreed more with. One was that federal programs are "riddled with waste and inefficiency," and sizable cuts "would help the economy over time." The other was that the programs "meet real needs for the nation, for individuals, and for businesses," and that cuts would harm the economy.
Some 62 percent of respondents opted for the "are riddled with waste" view, while 33 percent were on the "meet real needs" side.
The result should be taken with grains of salt, of course. Just as people give Congress an abysmal approval rating while supporting their own congressional representative, they are prone to see government as inefficient in general, while being reluctant to cut cherished programs.
At the same time though, this poll suggests that many Americans don't necessarily see budget cuts as a terrible thing.
---